Hello and welcome to the second edition of Pagefield's General Election 2019 newsletter, a weekly digest of campaign developments and a look ahead of what to expect in the coming days.
As the campaigns from each of the main parties went up a gear this week, the reality of fighting a winter election hit home with severe flooding in the Midlands and North of England.
The Prime Minister was criticised by his political rivals and angry flood victims for being slow out of the blocks to declare a national emergency and his response went from bad to worse when a photo-op of him mopping the floor of a flooded opticians was judged to almost certainly be making the situation worse.
CCHQ will be hoping to return the debate to safer, drier, Brexit grounds in the weeks to come. They tried to steer it this way with a unique (bizarre?) West Wing inspired walk-and-talk party political broadcast with the PM which saw him tackle the issue of Brexit ("we will get it done") while making a cup of tea and answering questions on his favourite band (The Rolling Stones). If you haven't seen it yet, judge its effectiveness for yourself here.
The Conservatives were handed a boost this week when Nigel Farage decided to stand down his Brexit Party candidates in 317 Tory held seats. They will still contest Conservative target Labour-held marginals though, so watch out as the Conservatives attempt to squeeze as much of that Brexit vote back to them. Check out our own Josh Lambkin's full analysis of the Tory campaign here.
Elsewhere, another theme of this election continued to play out: who can spend the most money the fastest? Labour launched significant policies in education and trumped the Conservative's prospective £20bn NHS investment with another £6bn on top while the Lib Dems announced £100bn for a green investment programme.
Not content with all that, Labour stole a march on the election agenda with a big announcement on Friday to nationalise sections of BT to create "British Broadband", a state-run provider delivering free and fast broadband to all. Read on for more detail.
Policy of the week 
Kicking off a bumper week of spending commitments, speaking alongside Shadow Education Secretary Angela Rayner, Labour Leader Jeremy Corbyn announced a new 'National Education Service' to provide free skills and vocational training for all. This was followed by proposals to increase the NHS budget to £155bn, targeted cutting waiting times and improving social and mental health care services.
However, it was today's announcement to effectively nationalise the internet – or, more specifically, BT's Openreach network – that takes this week's prize as policy of the week. Should the Labour Party win, the network is to be spun off into a new 'British Broadband' company, providing full fibre broadband to users for free with competing networks forced to provide access to their infrastructure.
This has attracted a predictable amount of criticism from commentators and policy wonks who see this as another example of Labour's obsession with nationalising everything but it has also shifted the focus onto what is a really important issue for many people. Nationwide high-speed broadband is something of an unfulfilled promise from the Cameron/Osborne era and the country's internet infrastructure is in dire need of improvement. Whether Labour's proposal is workable or not, they have put this in the spotlight and totally shifted the narrative in their favour.
Rebecca Lury, Pagefield Partner and Labour PPC for St Albans:
"The reaction to this announcement from industry and politicos alike has been predictably – but fairly – aghast. But despite how crazy it looks to public affairs professionals, this will go down very well indeed with voters. Access to quality broadband is one of the key issues that I keep hearing on the doorstep in this campaign. Labour has seized upon it and stolen today's news agenda from the Conservatives."
Star of the week
Shadow Education Secretary, Angela Rayner, has won our much coveted star of the week award this week. Rayner put on a robust performance in Blackpool on Tuesday as she announced her party's pledge to deliver a radical expansion of lifelong learning to make sure "no one is shut out of education". For many, this speech was seen as Rayner's coronation, as she is now widely tipped to be the Labour Party's next leader, whatever the result on December 12.
An honourable mention has to go to Kate Griffiths – the estranged wife of former Government Minister, Andrew Griffiths, who had to resign after sending thousands of explicit messages to two constituents. Kate Griffiths, who is divorcing her husband, has been selected to replace Andrew Griffiths as the Tory candidate in his own seat…she has also been clear that she had not sought, nor accepts her husband's offer of his political support. Ouch.
Hot take of the week 
The Times' cartoonist Peter Brookes nailed it with his analysis of the political reaction to the floods this week.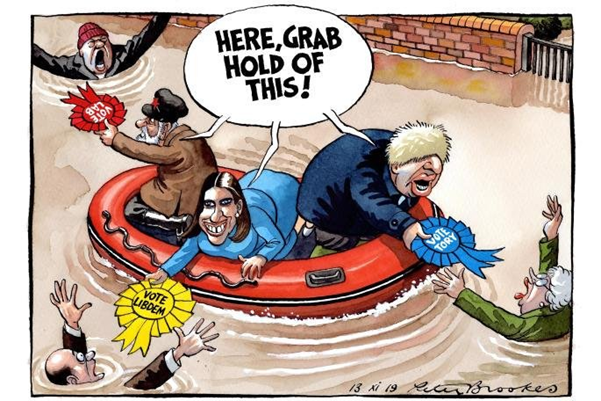 Gaffe of the week 
Parties and prospective candidates generally trod more carefully this week, with the exception of the Brexit Boxer himself, Nigel Farage, who appeared to not know where to stand, literally.
First announcing that the Brexit Party will not field any candidates against the Conservatives in the 317 seats they won at the 2017 General Election, Farage then jumped back into the ring to fight for the key Labour constituencies and urged the Tories to "stand down".
Poll of Polls
The polls have remained largely unchanged, with some gains for the major parties as the Lib Dems and Brexit Party face a squeeze. Check out the Pagefield team's full predictions here.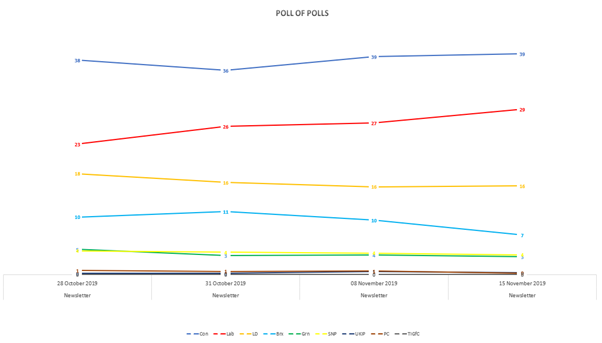 What to expect next week 
As polls continue to show a strong Tory lead, a pivotal moment comes next week as Corbyn and Johnson go head-to-head in the first televised debate of the campaign, hosted by ITV on Tuesday.
Although the exclusion of smaller opposition parties has triggered anger, with the Liberal Democrats threatening legal action, the debate is an opportunity for both parties to reinforce the message that this election is between two candidates for the job of future Prime Minister.
The Conservatives will use this as an opportunity to attempt to unite the Leave vote and present him as a strong leader, while Labour will hope that having Jeremy Corbyn in prime time will boost his popularity as it did during the 2017 election campaign.
Alongside this, although official dates are unconfirmed, we are also expecting the release of manifestos next week. While there will of course be a focus on spending and taxation, one area to watch is the parties differing stances on immigration, with both Conservatives and Labour having tread a fine line on this particular political hot button issue to date.
Similarly, there is speculation that the Lib Dems' manifesto will be released next week with an expected narrative that distinguishes them from Labour and the Conservatives by providing a strong focus on areas that voters can relate to such as climate change, mental health and of course; their pledge to revoke Brexit completely.